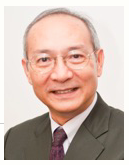 【WCP2018】APFP activities in Kyoto: Cutting Edge Lecture (July 5) by Professor Samuel H.H. Chan, former APFP president.
Former APFP president, Professor Samuel H.H. Chan, Institute for Translational Research in Biomedicine, Chang Gung Memorial Hospital, Taiwan, will perform cross-spectral cutting edge lecture on July 5 ( 8:30-9:15).

The title of his talk is "Differential Clinical Impacts of Oxidative Stress and Nitrosative Stress: Therapeutic Implications" chaired by Professor Naohiko Anzai, Department of Pharmacology, Chiba University Graduate School of Medicine, Japan.
For detail, see below:
http://www.wcp2018.org/program/index.html#a_plenary