Dr. WS Fred WONG, an APFP Councillor, invites us to "The International Conference on Pharmacology: Advances in Translational Sciences & Drug Discovery" on July 4-5, 2019, hosted by the Department of Pharmacology, Yong Loo Lin School of Medicine, National University of Singapore; Drug Discovery & Optimization Platform, Medical Science Cluster; & the Pharmacological Society (Singapore).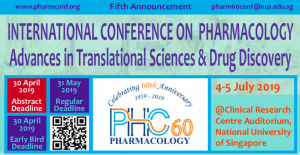 *******************************************************************************
Venue: Clinical Research Centre Auditorium, 10 Medical Drive, Singapore 117597
Please take note that both the Abstract Submission Deadline and the Early Bird Registration Deadline have been extended to 30 April 2019.
Please encourage your members and graduate students to attend this major Drug Discovery and Development conference, and the full Program is available in the Conference Website. We have Invited Speakers across the Asian Pacific including Australia, Malaysia, Taiwan, China, Korea, Canada and the US, presenting in the Conference.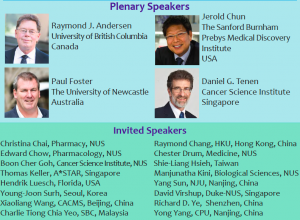 Please go to the Website:
http://www.pharmconf.org/
for registration and view the updated Scientific Program.
We look forward to seeing you again in Singapore and in Pharmacology!
Best, Fred