Abstract submission site for poster presentation is now open at the web site of "APFP2020 in Taipei".
The Pharmacological Society in Taiwan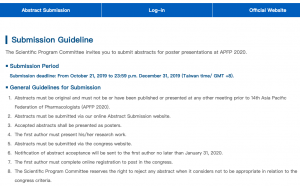 Deadline for Abstract Submission is December 31, 2019.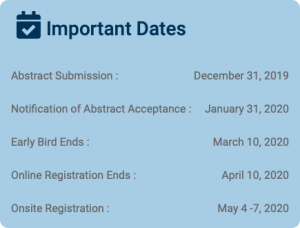 Here is the invitation letter from The Secretariat Office of APFP 2020
———————————————————————
Dear Sirs:
I take the great pleasure in welcoming you to the 14th Asia Pacific Federation of Pharmacologists (APFP) held on May 4 – May 7, 2020 in Taipei. This year, the conference is themed as "Pharmacology for Precision Medicine". Kindly forward this information to your society member and encourage to submit their articles related to the theme.
As said, after genome sequencing was applied in medical practice, therapeutic treatments entered an era of precision medicine which takes into account of individual variability in genes, environment, and lifestyle. It predicts the treatment are effective and accurately if done with a group of patients. The poster presentation subjects can be in following areas but not limited to: Pharmacogenomics, AI/Bioinformatics Pharmacology, Cell Therapy and new drug development.
We look for significant contributions to the researches in theoretical and practical aspects. Kindly please submit the abstract before end of Dec. 31, 2019, please refer to the submission details at
http://submission.2020apfp.com
Best regards,
Po-Wu Gean
President of the Pharmacological Society in Taiwan
———————————————————————
The Secretariat Office of APFP 2020