New abstract submission deadline for "APFP2021 in Taipei" has been disclosed: 30 September 2021.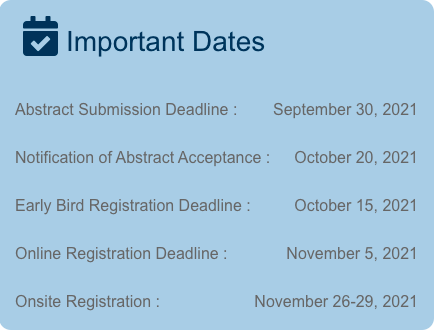 The Pharmacological Society in Taiwan
Here is the e-mail from The Secretariat Office of APFP 2020
Dear Honorable Delegates:
On behalf of the Pharmacological Society in Taiwan, I cordially welcome all of the participants to the 14th Asia Pacific Federation of Pharmacologists (APFP) held in Taipei.
After genome sequencing was applied in medical practice, therapeutic treatments entered an era of precision medicine which takes into account of individual variability in genes, environment, and lifestyle for each person. It predicts the treatment are effective in a group of patients more accurately.
The main theme of APFP 2021 is"Pharmacology for Precision Medicine". As such, we organize symposia including pharmacogenomics, AI/Bioinformatics Pharmacology, Cell Therapy and new drug development presented by renowned experts from our neighboring national societies and worldwide. We are also privileged to have Professors Tasuku Honjo from Kyoto, Chi-Huey Wong from Taipei, and Mien-Chie Hung from Taichung as our plenary lectures. Certainly, your attendance will help enrich the discussion and exchanges of novel scientific findings.
※ Registration Link: http://submission.2020apfp.com/login
※ The deadline of Abstract Submission is September 30th (Thur.)
We sincerely look forward to having you at APFP 2021.
Wan-Wan Lin
President of the Pharmacological Society in Taiwan
The Secretariat Office of APFP 2020
Email : apfp2020@gmail.com
Website:http://www.2020apfp.com/
---